Student housing spread marches on in Edinburgh
January 27 2017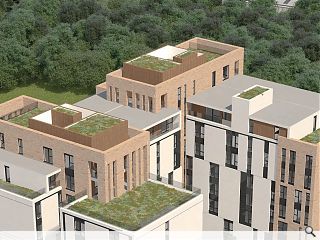 Ardent Group and Fourward Architecture have brought forward plans to build a
266-bed student housing development at a former builder's yard on Russell Road, Edinburgh
.
Intended to form a proper streetscape and enhance the setting of a B-listed railway bridge and embankment the scheme is conceived as a U-plan block enclosing a central courtyard and garden.
Each gable is defined by a distinct brick 'features' with facades organized as a series of horizontal layers wrapping around the base, main bulk of accommodation and the roofscape.
In a statement the architects observed: "Each vertical circulation 'block' is expressed as distinct brick clad features. The two ends of the Russell Road facade are also terminated by two further brick elements. This establishes a massing based on the buildings function, its context both now and in the future.
This massing takes cognisance of the predominantly vertical rhythm of urban development within Edinburgh. In this way an agglomerated nesting of three dimensional forms is established. The resultant form is both of its place and expressive of the functions contained within."
The scheme will meet the street via a ground level reception, common room and offices to provide an active frontage and reaches into the sky with a series of rooftop pavilions housing a common room and gym.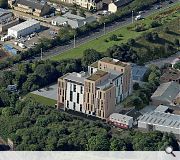 Surrounding council controlled land is earmarked for mixed use development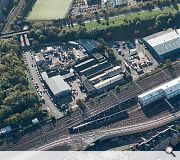 The scheme will take the place of an existing builders yard
Back to January 2017