£600m Dunfermline 'city quarter' goes to planning
January 20 2017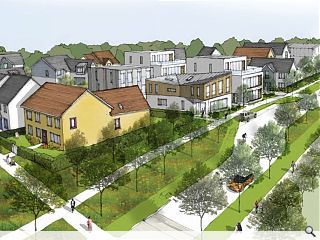 Stirling Developments have put forward plans for a mixed-use and walkable
urban expansion of Dunfermline, Fife
, providing 2,150 homes, commercial premises, parks, schools, surgeries and community facilities.
A design team including masterplanner Duncan Whatmore, landscape architect Julia Goodwin and urbanist Ed Taylor are collaborating on the initiative which mandates that a quarter of available homes be classed as affordable.
This calls for the city quarter to be aligned on a new High Street affording a clear vista toward Dunfermline Abbey, centred on a civic square lined by apartments and shops drawing on principles laid down at Poundbury and Calderwood.
In their masterplan statement the developer said: "The public realm of Broomhall will consciously avoid the characteristics of the highway, with minimum signage or road markings. Junctions will serve as places and landmarks, assisting navigation and fostering low speeds and creating a forgiving pedestrian environment."
An application for planning in principle has already been submitted for the 69 hectare project, which will be delivereed over a period of 30 years.
Back to January 2017