Aberdeen student housing duo win planning consent
January 19 2017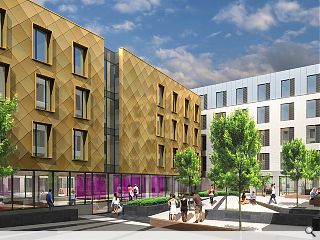 Watkin Jones have obtained planning consent for two separate student housing builds in Aberdeen, offering 817 beds of student accommodation between them.
The larger of the two is situated on
Pittodrie Street
and will include 618 beds in a new build block scheduled to welcome its first tenants in summer 2019.
Designed by Manson Architects it will replace a former builders yard with a 'cloister arrangement' of mews-style courtyard properties.
In their design statement the architects said: "The street frontage along Pittodrie Street will be broken up by the architectural form of the building, incorporating basement lightwells, extruded elements and recessed facades. The open space at the front of the site will provide reception and internal amenity space for the students and will be sub-divided to create different activity zones for study, play, reading, relaxing and so on.
"The glazed frontage at ground floor will provide a quality activated frontage along Pittodrie Street; passersby will obtain oblique views in to the building and be able to acknowledge the building use quickly. These views will be tempered by the colonnade but provide key views into the internal courtyard space."
It is joined by a redevelopment of
Caledon House
on Garthdee Road by ICA which will add a further 199 beds when it completes in summer 2018.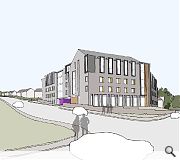 Caledon House will be the first project to complete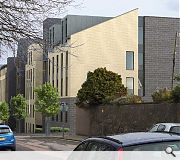 The Pittodrie Street development will occupy two opposing plots on either side of the street
Back to January 2017