University of St Andrews preview £8m music centre
January 18 2017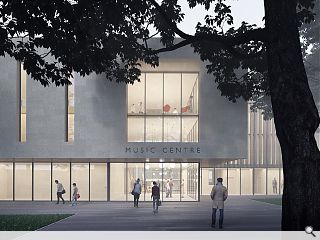 The University of St Andrews have previewed an
£8m music centre designed by Flanagan Lawrence architects
ahead of a public exhibition of the plans.
Outline proposals for the Queens Terrace build, overlooking St Mary's Quadrangle, call for creation of new rehearsal and teaching spaces alongside a dedicated rehearsal studio, recording suite and library on a brownfield town centre plot.
A design brief called for the restoration of an historic quad and preservation of historic features on St Mary's Quadrangle while ensuring any new additions complement their surroundings.
In a statement the university said: "Subject to a formal application for planning permission, the University hopes to begin building before the end of 2017. It is currently seeking the support of alumni, parents and friends to help it transform the musical facilities offered to students and the general public and to reinforce music's place at the heart of the University and town of St Andrews."
An exhibition detailing the scheme will be held at the Byre Theatre from 22-27 January between 10:00 and 18:00.
Back to January 2017