100 more student flats headed for Glasgow's west end
January 16 2017
Glasgow's student housing sector remains in rude health with the submission of plans for
100 studio apartments
on the site of a former playground at Kelvinhaugh Primary, Gilbert Street, by Ryder.
The resulting brick building will turn the corner to Teviot Street with landscaped amenity space over a no build area over the Kelvinhaugh railway tunnel.
In their design statement the architects noted: "The ground floor plinth acknowledges the adjacent primary building and is defined by a solid brick base. The ground floor at this level responds to the streetscape through enlarged bay openings reflecting the differing window cill heights.
"The main body of the façade is defined by recessed brickwork which have an assymetrical relationship to the windows."
"The fourth storey is set directly above the cornice datum of the former Kelvinhaugh primary."
Prepared on behalf of Blocwork the scheme will complement a recent consent for a
607-bedroom project at Kelvinhaugh Street
as part of a slow reinstatement of the area's urban fabric.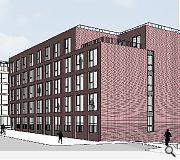 Kelvinhaugh Apartments could rise next to a similar block at 33 Gilbert Street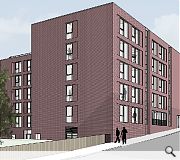 The presence of railway tunnels places limits on developable land in the area
Back to January 2017