Primary school to lead proposed Wallyford expansion
January 13 2017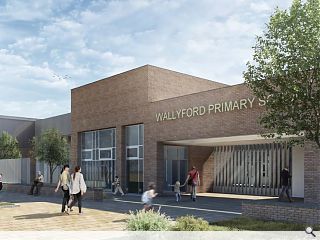 JM Architects have filed proposals to
erect a new primary school in Wallyford, East Lothian
, to complement a significant planned extension of the commuter village.
Wallyford Primary will replace an existing school with expanded facilities for 814 pupils, with scope for further expansion by 2031 to accommodate 1,194 pupils, within the approved St Clements Wells masterplan.
In their design statement the architects said: "Given the lack of quality contextual influence mentioned over leaf, we feel that the building should project a sense of individuality; that visually it should stand proud from its surroundings and act as a focal point within the built environment of the new extendedWallyford.
"We have elected to keep the elevational treatment to a limited range of materials: - brick (of rustic character) which is similar to the Wallyford brick produced from the colliery; a glazing system utilising a mid grey colour for its frames, timber cladding which shall silver naturally over time, and fibre cement cladding panels in a dark grey at high levels in strategic locations such as to the sports hall to reduce the impact of the mass of this element."
In addition to pupil services the school will also double as a community facility centred on a multifunctional hall.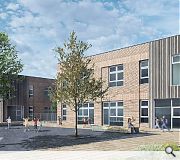 Teaching clusters will be arrayed off a central street to create as compact a design as possible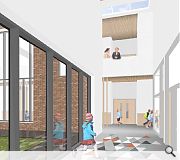 The school will be available for community use after hours
Back to January 2017