Long running Edinburgh residential infill project back on the cards
January 11 2017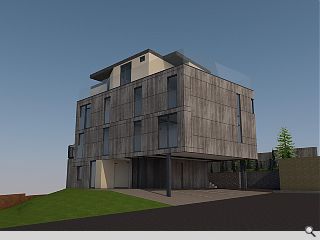 Studio DuB Architects have brought forward plans to build a trio of duplex and single level flats on vacant ground at
Inglis Green Gait, Edinburgh
.
Located adjacent to a railway embankment the four storey infill will be faced in timber cladding with glass and galvanized steel balustrades under a roof with integrated photovoltaic panels.
Undercroft parking for three cars will be provided at ground level with the rear of the plot replanted with a turfed communal amenity space.
Outlining the plans the architect said: "The building is of a contemporary design using modern materials. Interest is held by the design in its fenestration patterns, setbacks and terraces. It is a stand-alone building with its own setting in a cul-de-sac, set back from the main road. As a result, it will not interfere with the setting of any existing developments. The footprint largely follows the established building lines of the existing flatted development to the west."
The site has a long history with plans first emerging back in 2005 for the erection of seven flats, only to be superceded by later applications.
Back to January 2017