ADF table plans for Merchant City student housing tower
January 11 2017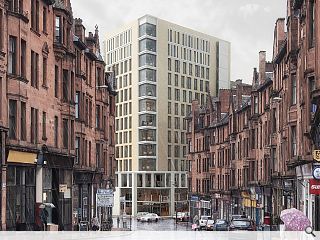 ADF Architects have
brought forward plans to erect a significant student housing development in Glasgow's Merchant City
on behalf of Structured House,
complementing ongoing regeneration at Collegelands
.
Merchant Point will offer 431 units of student housing in a staggered block stepping up to 13 storeys at the junction of High Street and George Street and is formed from two tone facing brickwork and polished precast concrete.
In their design statement ADF wrote: "… the form of the building breaks into three main components, 'head, body and tail', and this is expressed through changes in height and materials. However the constant element throughout all facades is the articulation of the bedroom units. As a repeat module, the window becomes a 'standard' unit [integrating ventilation grilles], however these sit within a larger brick opening – which allows the window to move and slide to provide a subtle complexity to the pattern of the facade without affecting the rigorous layouts inside.
"The buildings relationship to the listed building on High Street is undoubtedly dramatic – we however recognise that this 'juxtaposition' has the potential to enhance the central open space, giving the historic building a relevance within a composition of contemporary urban moves – and predicting how the future development of the vacant site to the south might also change to enhance this evolving part of the city."
Proximity of a main line railway tunnel below ground has forced David Narro structural engineers to devise a transfer truss structure of up to 42m in length to spread the load of the building over the tunnel.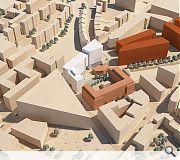 In the long-term land to the immediate south will be targeted for mixed use development, enabling formation of an interior green space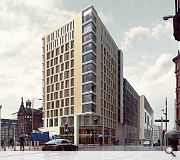 Street level will be activated by the inclusion of retail units
Back to January 2017