University of Glasgow campus overhaul secures blessing of planners
January 9 2017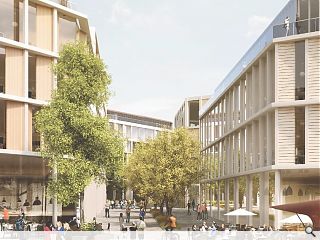 The University of Glasgow has elected to support a
£1bn campus masterplan
which will see the institution expand over the site of the existing Western Infirmary at a pre-determination hearing.
Submitted plans call for the creation of a variety of research and academic buildings and crucially paves the way for a range of complementary facilities to be built alongside buildings for university use; including a hotel, housing and retail, scotching concern about their impact on Byres Road and the city centre.
A report prepared by planning officers read: "The proposed mixed-use university campus, which moves away from a single, land-use allocation to include a range of supporting uses in addition to mainstream University uses, will contribute to the vitality of the area through the day and evening and allow the campus to integrate with the surrounding area.
"The proposal is design-led and will result in the redevelopment of a large brownfield site and secure the future of the listed buildings thereon. It is considered that the supporting commercial uses will enhance the vitality of the proposed campus and help integrate it with its surrounds in accordance good place making."
A masterplan prepared by 7N Architects calls for development to be spread across nine separate blocks ranging up to a potential 10 storeys in height fronting Argyle Street.
The council will determine whether to approve the planning application at a meeting on 16 February.
Back to January 2017