Reiach & Hall helm Edinburgh office refurbishment
January 5 2017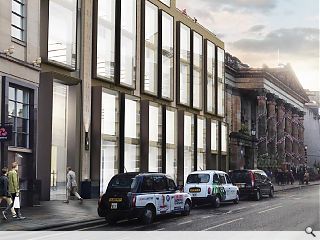 Reiach & Hall Architects have returned to the site of an existing office block on Edinburgh's George Street, first completed by the practice back in 1993, to propose the
replacement of current curtain walling and addition of a small rooftop extension
.
Prepared on behalf of Sampension KP the scheme is intended to help source a new long-term tenant for the space following expiry of the current lease in 2018 with a sympathetic remodeling of the exterior and enhanced accommodation within.
In a statement the practice wrote: "The proposal is to express the volume of the building in glass. As such caps to the curtain wall are simply expressed in a bronze anodised finish. The massing of the adjacent 1990's infill at 6 George Street allows the glazed volume of the upper floors to be extended north – this move aligns the upper storeys of 10 George Street with its neighbour.
"Similarly the lightwell to the west façade is partially infilled – this provides the improved dual aspect views from the office and again helps provide the internal office space so clearly sought in this location.
"With the existing glazing removed the façade is clearly expressed as the series of retained pilasters. These existing blonde ashlar stone pilasters are to be cleaned. Their 6m rhythm conceals the existing building structure and relates to the 3m column rhythm of adjacent portico to the Dome."
Part of this work will see the introduction of a double height entrance and reception space and extending floorplates to create around 7,000sq/ft of additional accommodation.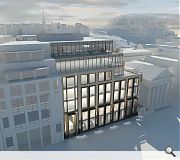 A granite basecourse and stonework will be retained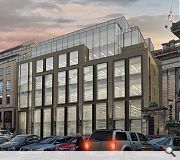 Bronze uplighters will be refurbished with the addition of new lights
Back to January 2017