Publican hopes Gorgie flats plan will be a shoe-in
January 4 2017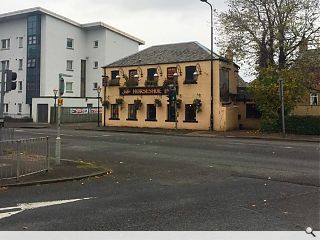 Plans have been submitted for the creation of
11 flats on the site of Gorgie's Horseshoe Inn
, entailing complete demolition of the converted Victorian workshop by the pub's owner.
Consisting of boxed out sections of bronze cladding, curved Trespa and dark coloured zinc cladding, aluminium and render the replacement scheme would adopt an L-plan and rise through four storeys to better define the Hutchison Crossway junction.
In a planning statement Format Design observed: "These materials have been selected to provide a distinctive high quality building which will create a landmark gateway building which along with the curved tenement to the north will be a distinct feature at this major road junction. It is hoped that this will be seen as the main entrance to the Gorgie Area. It will be a building more in keeping with the scale of this large junction site."
The flats have also been conceived to help mask an 'uninspiring gable' of a neighbouring flatted block.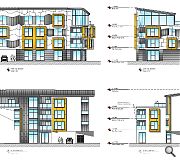 The flats would front an important arterial route into Edinburgh
Back to January 2017