Neo-gothic Edinburgh office set for modernist makeover
December 14 2016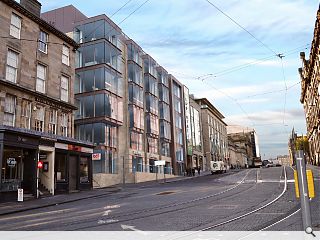 A neo-Gothic office block at North St Andrew Street, Edinburgh, is to be given a facelift by Knight Property Group and Comprehensive Design Architects in order to establish a unified elevation to the eastern side of St Andrews Square.
To this end,
Edinburgh House will be fully remodeled
with new curtain walling, an upper storey and entrance porches designed to marry with those at Harvey Nichols and the Royal Bank of Scotland, whilst retaining existing sandstone.
In their design statement CDA noted: "The new curtain walling to the West Elevation emphasises one of the key elements of the building, the views. Due to its location, the building provides view to St Andrew Square and North across to the Fife Coast. This is currently restricted at the lower levels due to the small windows in place. The proposals will rectify this by providing large curtain walling elements which will ensure all levels are able to make the most of the views."
Under the proposed works ground and lower levels will be remodeled to accommodate commercial units.
Back to December 2016