Brownfield Aberdeen plot earmarked for 'multi-gabled' flats
December 7 2016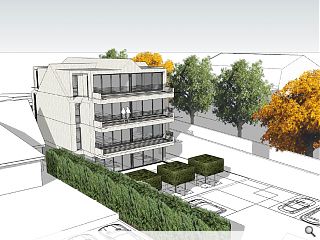 A brownfield site in Aberdeen has been lined up to host a
block of four flats
in a planning application filed by Fitzgerald + Associates.
Situated off North Deeside Road the 0.22 acre site will offer private gardens for each home and south facing balconies for upper level dwellings embodying a contemporary design with a 'multi gabled' approach.
Explaining this approach the designers said: "Our design approach in relation to this corner site location, presented an opportunity to provide a strong identity, taking a design lead from an adjacent flatted development, where an existing multiple gable granite building was refurbished [ see fig-01 ], I have sought to replicate this multi-gable approach with a contemporary material palette. This gable approach is reflected elsewhere in the locale."
The new build will be formed from a clay brick base and Scotlarch finished upper floors to contrast with existing buildings in the area.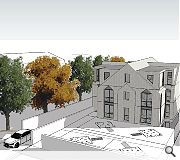 The corner plot demanded that the build be treated in the round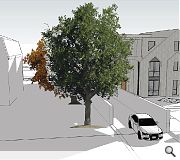 Windows to the east and west will be limited to prevent overlooking
Back to December 2016