Mackintosh Library refurbishment gets underway
November 24 2016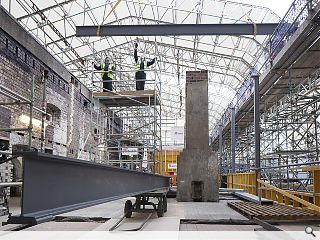 Work has begun on the
restoration of the Mackintosh Library at the Glasgow School of Art
with the removal of windows and stone piers now well underway by contractor Kier Construction.
The delicate project will see the fire ravaged structure brought back into use following painstaking forensic work undertaken by a team of conservation experts led by Page\Park which will allow the iconic room to be brought back into full-time use.
A fire ripped through the building on 23 May 2014 after a gas canister dropped over a projector fan ignited. Since then a fraught process of research, archaeology and debate has taken place over how best to bring the school back to life
This will see conservationists return the school to its turn of the century look whilst incorporating modern day conveniences such as disabled access and wi-fi connectivity, not to mention a fire suppression system and smoke detectors.
Back to November 2016