Aberdeen Football Club fleshes out Kingsford stadium move
November 23 2016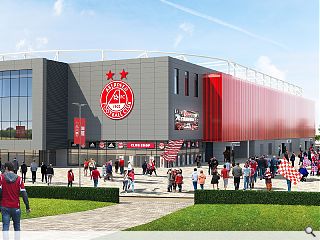 Aberdeen Football Club has provided fresh detail on its intent to build a new stadium at Kingsford in addition to a football academy, community and sports campus at a public exhibition at Pittodrie.
Following initial consultations the club and Halliday Fraser Munro intend to bring forward a planning application for a 20,000 seat stadium, training pitches, gym, store and café as well as a heritage museum and memorial garden on the 25 acre site.
In a statement the club said: "The single tier, fully enclosed stadium will dramatically improve atmosphere, while minimising visual impact on the surrounding area. Much more comfortable and accessible, the stadium and its concourse areas, and the wider site facilities will offer a much better match-day experience for everyone, from young to old – encouraging greater family attendance and providing a beacon for the fans of the future.
"More significantly for the profile of the region, Kingsford will be the largest new-build stadium in Scotland in 100 years."
Crucially the club will use the move to place greater emphasis on community facilities for fans and locals, a long-held ambition since
plans for a new arena were last touted in 2011
.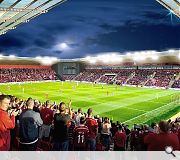 The club hope to improve match day atmosphere with a single tier stand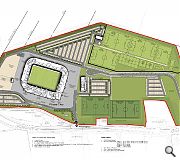 The masterplan will be delivered in phases
Back to November 2016