True Student Living roll out hotel-style Glasgow accommodation
November 15 2016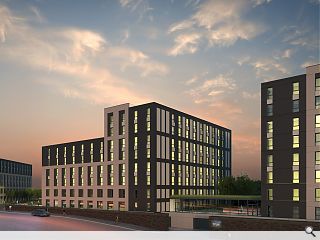 True Student Living are to roll out a new breed of 'lifestyle' student accommodation with launch of a student housing block in Glasgow which is said to offer a 'premium' experience to students.
Backed by British and Chinese investment the first scheme to feature the concept will begin accepting students in September next year in Glasgow before extending to Birmingham and Newcastle.
Factory-built in China the
KKA-designed Yorkhill scheme
follows an intial ICA consent and will be shipped to the UK in module form complete with fully fitted bathrooms, beds, kitchens and even desks and chairs prior to assembly on-site.
Built to a high specification tenants will benefit from digital rainforest showers and smart TV's as well as a cinema room, chill-out area, communal kitchen/dining facilities, a karaoke room, multi-sports court, gym, café and flexible work spaces.
Other perks include a cargo net suspended from the library ceiling and a slide offering easy ground floor access.
Managing director at true Student Living, Marc Carter, said: "Living with true is about much more than a comfy bed and cool TV."
"We believe we have a very exciting new approach – we're not just about fixtures and fittings, but creating a learning and lifestyle experience that will set our students up for the rest of their lives."
A pop-up suite has been installed at 181-183 Byres Road offering prospective tenants the chance to find out more.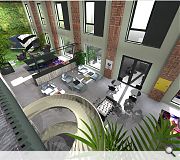 A slide, campervan and themed c'hill-out' zone will punctuate the interior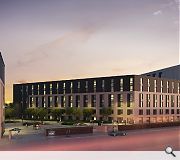 The modular approach allows for stringent quality control and high-speed construction
Back to November 2016