Ninewells Leaf Room takes root
|
Send to friend
November 11 2016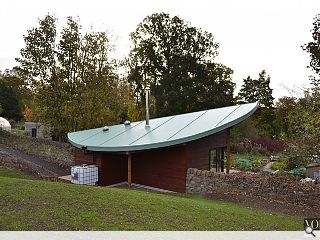 NHS Tayside have taken possession of a new garden room at Dundee's Ninewells Hospital following delivery of a competition winning design by the Voigt partnership.
Designed to offer an inclusive space for the conduct of gardening related activities The Leaf Room takes inspiration from the natural world to offer an organic shaped roof overhanging a regular rectangular room by way of a diagonal beam and rafters supported on columns around the building edge.
Large sliding doors slide fully open to the outside, helping the interior meld with the exterior.
In a statement the Voigt Partnership wrote: "The Leaf Room is innovative and exciting; and sits comfortably in the garden space it occupies, creating a strong connection between building and garden. The new room is a fantastic addition to the garden, and it is hoped that staff, patients and the public will benefit this and be attracted the to the excellent existing community garden which is a real hidden gem at the hospital."
Built using Douglas Fir beams and larch cladding by S and R developments the project is completely 'off grid', relying instead on a wood burning stove and rainwater harvesting to help water the plants.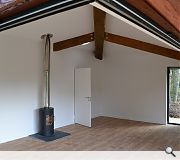 A fully retractible corner door helps to bring the outdoors indoors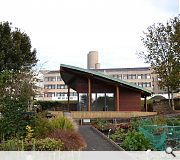 Similar colours have been chosen for the timber effect vinyl flooring inside and the timber decking outside to enhance the illusion
Back to November 2016