Finnieston student flats plan breaks cover
November 4 2016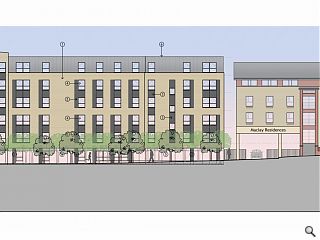 Young & Gault Architects have dusted off plans to build a
student housing development at Sandyford Street, Finnieston
, to tap into growing demand for accommodation in close proximity to the University of Glasgow.
Designed to complete an urban block the block will include provision for a pocket park as well as a landscaped courtyard and semi-private amenity area.
Explaining the design the architects said: "The linear block arrangement completes the urban block and addresses the open space to the south of the site. Although one storey higher than the adjacent building on Sandyford Street we are taking advantage of the slope on the site to keep close to the existing ridge line.
"The elevation aesthetic has been developed using facing brick as the primary material, this provides solidity of appearance and integrates well with the adjacent block. The Ground Floor external wall comprises curtain walling in both clear and opaque panels."
Buff brickwork will rise beyond the roof line at the junction of Sandyford Street and Eastvale Place to create a 'visual stop' to Kelvinhaugh Road.
Back to November 2016