Simpson & Brown win National Marine Centre build
November 3 2016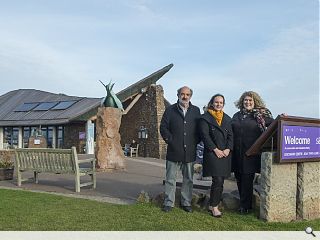 Simpson & Brown, architects behind the Scottish Seabird Centre in North Berwick, have been appointed to lead work on developing outline proposals for a new National Marine Centre.
A public consultation is currently underway for the site to establish the best way of enhancing the existing centre to expand its education and conservation programmes to better inform the public about the marine environment.
This follows a decision by the Heritage Lottery Fund to award development funding of £290k and lend initial support for an additional £3.5m of support.
Andy Davey, partner at Simpson & Brown Architects, commented: "Our team is delighted to be involved with the National Marine Centre Project. We are immensely proud of the Seabird Centre building and believe we are ideally placed to develop and strengthen the design to make it even more inspirational as well as functional for visitors and staff.
"Our work focuses on respecting the past and responding to the challenges for the future, particularly with regards to environmentally sound, sustainable design. As these aspects will be a core focus for the National Marine Centre project we look forward to researching, consulting and developing the designs in partnership with the Seabird Centre team and key stakeholders."
Under the commission Simpson & Brown will be tasked with enhancing the exhibition space and accommodating a range of activities and events within a two-year funding deadline.
Back to November 2016