Simpson & Brown complete Rievaulx Abbey visitor centre
October 27 2016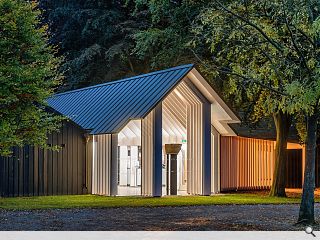 Simpson & Brown have completed a new visitor centre for Rievaulx Abbey, North Yorkshire, on behalf of English Heritage to complement an upgraded museum building.
This saw an existing timber structure retained and adapted allowing a central hall to be inserted within the L-shaped plan which enabled facilities to be improved whilst enhancing the buildings presence amidst the ruined abbey.
In a statement Simpson & Brown said: "The new building is intended to act as a showcase for the abbey. A single piece of carved stone from the abbey ruins is presented within the glass window as a visual taster for what lies beyond. There is now a greater clarity for the visitor as the main arrival and orientation point within the site. The new hall is formed in engineered glulam spruce timber, coloured with a translucent white coating. This colour unifies both the timber and adjacent internal finishes while still allowing the natural appearance of the frame timbers to be appreciated."
Taking the form of a series of arches which gradually splay to reveal new vistas of the abbey the building seeks to strike up a visual connection with the shattered columns and arches sitting in the landscape.
Photography by Giles Rocholl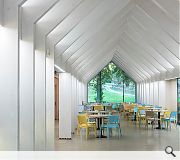 Engineered timber, zinc and polished concrete have been used in the build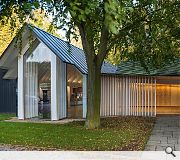 Externally the building can be read as an extension of local agricultural buildings
Back to October 2016