Forth Road Bridge leads Saltire Society civil engineering awards
October 26 2016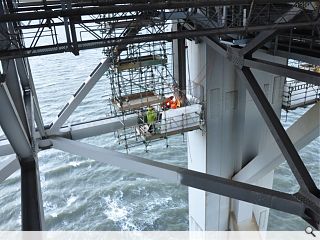 Repair work to the Forth Road Bridge has been recognised after the project was crowned overall winner of the 2016 Saltire Society Civil Engineering Awards, backed by the Institution of Civil Engineers Scotland.
The Forth Road Bridge: Truss End Links Repair entailed identification and repair of fractured steelwork in a network of trusses under the bridge and was lauded by judges for being 'a remarkable engineering achievement carried out during a period of adverse weather conditions, whilst ensuring public safety and the structural integrity of the bridge.'
Speaking on receiving the Greatest Contribution to Scotland Award on behalf of Amey, major bridges director Ewan Angus said: "We are delighted to have won the award in this category. We are incredibly proud of our team's achievement in reopening the bridge early in the most challenging of circumstances and of the benefit this brought to the people of Scotland. This project offered a unique opportunity to showcase Civil Engineering to the nation and we are delighted our contribution has been recognised with this award."
Elsewhere an infrastructure award was given to the A82 Pulpit Rock realignment work with commendations also handed out to Lamington Viaduct spanning the River Clyde; Gourock Pier redevelopment, an Elgin flood prevention scheme and the Ngau Tam mei to Tai Kong Po tunnels in China.
Back to October 2016