Bronze business centre to kick start Shawfield masterplan
October 20 2016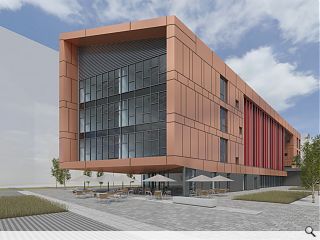 Norr have put forward detailed plans for one of the first plots to be developed under a
7N masterplan for Shawfield
on the south bank of the River Clyde.
The Red Tree Innovation Centre
sits on the south-east corner of the masterplan area, bounded by Shawfield Bridge and a riverfront walkway with the expectation being that the centre will be isolated for a 'number of years' until neighbouring plots come to fruition.
Arranged over four floors the development will offer lettable office accommodation in addition to a range of common spaces such as a café and kitchen as well as gardens, balconies and breakout spaces.
In their design statement Norr said: "This building being the first to be constructed on the Shawfield site and being located at a 'key node' of the masterplan will initially be a standalone building. As such it requires to be considered 'in the round' having no other built forms or context to relate to.
"The spatial arrangement, in purely commercial terms, is essentially a linear rectangular form. The linear rectangular form has been consciously subverted to introduce a dramatic cantilever at the main entrance. The west façade is angled to align with the eastern building line of Plot 4e to the North and is expressed by the large picture frame window."
The entire building will be wrapped in bronze metallic effect rainscreen cladding, chosen for its warm tone and relationship with the areas industrial heritage.
Back to October 2016