Aberdeen Station expansion proposed in wake of Atholl Square plans
October 19 2016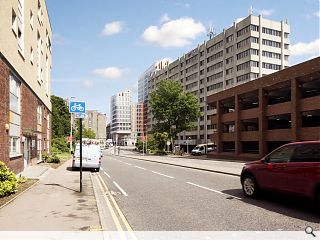 An expansion of Aberdeen railway station has been proposed as part of works to deliver Halliday Fraser Munro's
Atholl Square development
, to maximise opportunities afforded by demolition of Atholl House and the deck structure it sits upon.
In redesigning this platform to accommodate a trio of towers rising up to 17 storeys it is hoped that support columns can be repositioned to improve signal sighting and bring the redundant platforms eight and nine back into use.
In a notice of its intent Network Rail said: "The new civic space created at Guild Street bridge level will help to create a clear pedestrian route between Aberdeen Guild Street Station, Union Street and the rest of the city centre.
"Linkages to the station will also be improved below the Guild Street road bridge. Specifically a service route will be reserved that will assist in providing service access into the station. The existing pedestrian route beneath Guild Street bridge could also be improved, unless it is determined that an enhanced pedestrian crossing at Guild Street bridge road level is preferred."
According to the Evening Express this could also spur further concourse and frontage improvements to facilitate interchange between other rail services, ferries and pedestrian through routes.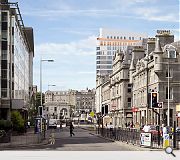 Both platforms have lain disused since construction of the original Atholl House back in the 1970s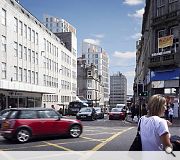 The towers will be clad in grey composite panels and anodised metal
Back to October 2016