Gorbals tenement survivor to be brought back to life
October 11 2016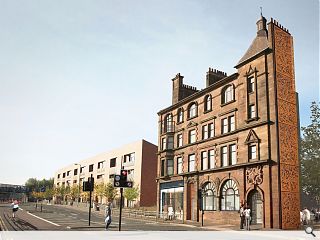 Page\Park Architects are bidding to bring a forgotten survivor of the Gorbals' tenement past back to life with a
full rehabilitation of the A listed former British Linen Bank
on behalf of Southside Housing Association.
The at risk landmark is one of a handful of listed buildings to survive in the area, making it a priority for refurbishment to arrest further deterioration of the structure following completion of the adjacent
Laurieston regeneration scheme
.
Under the plans ironmongery and other period features will be restored where possible together with the creation of a number of elements originally conceived by architect James Salmon but which went unrealised in the finished design.
This includes installation of a roof turret and recreation of metal balustrading to the third floor balcony as well as a reworked gable elevation through a sculptural artwork to enliven a planned linear park.
In a design statement the architects said: "Using the Cor-ten steel utilised in the arches we would work with the Gorbals Arts Project to produce a perforated design that wraps around the blank walls of the tower to create a landmark for the park.The Perforated panels, with pronounced joints aligning with string-courses, would be backlit to provide a feature marker to the linear park to complement the nighttime activity of the Citizens Theatre and O2 academy
"This would also provide a dramatic backdrop to a proposed outdoor seating area to the cafe/bar served by a new access formed at the ground floor of the gable."
A courtyard wall would also be opened up with metal screens to provide access and views to a backcourt area.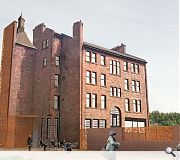 A backcourt will be opened up by a new linear park
Back to October 2016