Stallan-Brand think big with 'Style Mile' hotel
October 7 2016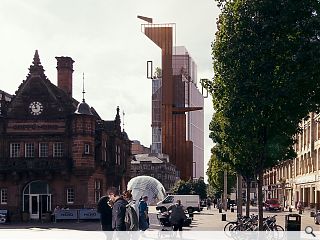 Stallan-Brand Architects have lodged plans to build a 17-storey 'Style Mile' hotel tower on the junction of Dixon Street and Clyde Street, framing views of the UK's second busiest shopping street in the process.
With retail, a restaurant and public realm defining the lower levels the design adopts a 'figurative' approach to its northern flank, prominent from Buchanan Street, with a design 'inspired by abstract images of Glasgow's ships, bridges and cranes'.
To the south, facing Dixon Street, the design is more rational with inspiration deriving instead from Glasgow's grid iron city centre layout.
In a design comment the practice said: "Critically the architects propose an architectural language of Glaswegian design, embedded in the memory of the city's inhabitants, a meaningful architecture that responds to alternate street scenes.
"To the north overlooking St.Enoch Square the architecture is more figurative inspired by abstract images of Glasgow's ships, bridges and cranes, whilst the elevation onto Dixon Street is more influenced by the Victorian City's gridiron tradition."
The scheme is the latest ambitious proposal for the waterfront site, presently occupied by a three storey tenement, most recently with an organic
Page\Park design
. It also complements a growing number of high rise proposals on Clyde Street including a
Hilton Doubletree hotel
and
student flats further along Clyde Street
.
Back to October 2016