Corten viewpoint earmarked for Highland beauty spot
October 4 2016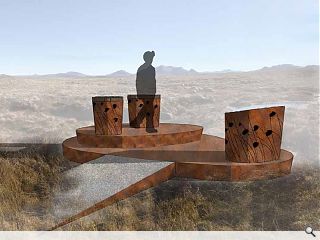 A Highland beauty spot has been chosen as the location for a corten steel viewing platform and seating drum to enhance appreciation of the surrounding landscape.
Conceived by Ian White Associates the
Flows to the Future
; viewpoint has been commissioned by the Peatlands Partnership on the shores of Loch Rangag, heart of an extensive bog habitat extending across Caithness and Sutherland.
Designated as one of the most important natural landscapes in Britain the scheme is the latest in a number of roadside interventions designed to raise awareness of conservation and climate change issues, with separate viewpoints planned for Forsinard, Forsinain, Loch Craggie, Crask and Moine House.
In their design statement Ian White Associates observed: "It is proposed that a pattern of Narthecium ossifragum (Bog Asphodel) will be cut into the corten seating and interpretation drums. The sites will each have a site specific cut detail in their vertical drum elements.The use of botanical motifs represent key species of the Flows Country including Sphagnum moss, Sundew and Asphodel."
Modeled on the Flow Country brand of concentric shapes echoing map contours the scheme takes the form of a lower platform on which planed oak seating will be laid. Information panels will also be provided to aid interpretation of the vista.
Back to October 2016