Dundee hotel extension goes before planners
August 31 2016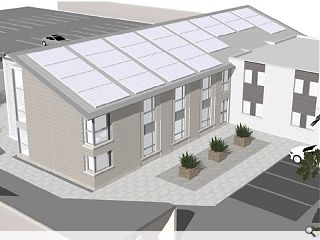 A proposed
extension to Dundee's Invercarse Hotel
, overseen by Arktx, has been submitted for planning by its owners – Redwood Leisure.
Delivering an additional 24 bedrooms in the city's west end conservation area the extension extends an original Victorian mansion across an existing area of car parking.
Connecting to an existing stairwell to provide a direct link between old and new elements the scheme will include clerestory glazing and a 'feature' glass block stairwell.
In their design statement Arktx observed: "Reconstituted stone is proposed as the principle material this applying a quality and robust finish to the elevations. Additional coursing and subtle set back detailing is proposed to add a degree of interest to the rational elevation.
"The feature staircase to the north elevation is proposed in glass block. The resulting 'lantern' effect in the evenings will be utilised to lead the way to the ballroom entrance from the car park. This lightweight element and proposed corner/ clerestory windows will provide a contrast to the mass of the reconstituted stone material."
Work on the extension could commence by the end of the year.
Back to August 2016