C(S) listed Perth hotel faces demolition
August 18 2016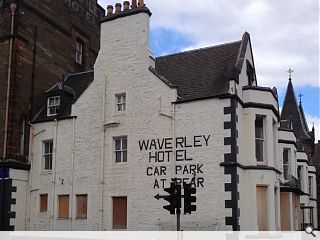 Perth & Kinross Council is considering a fresh application to
demolish the C(S) listed Waverley Hotel
on York Place and redevelopment of Trinity Church of the Nazarene to enable construction of a multi-use hall and gym.
Denholm Partnership Architects are seeking permission to demolish the hotel, which occupies a pair of villas and four storey tenement to the rear, on behalf of Bonhard Leasing - owned by Stagecoach billionaires Sir Brian Souter and Ann Gloag.
The latest in a succession of demolition bids since the hotel's closure in 2011 the scheme has been justified on the grounds that the church needs room to expand its provision of care for people suffering from drug and alcohol dependency and that no buyer has yet been found to take on the buildings which have been deemed unsuitable for economic refurbishment.
In their design statement the architects said: "As part of the previous planning and listed building applications, evidence has been supplied to support the case for demolition in line with the relevant SHEP policies and it has been agreed that these tests have been met.
"By working with PKC on the revised proposal, which have now been agreed and are felt worthy of support, we feel that the proposal makes good common sense and removes an unattractive and unviable eyesore. The proposal also creates a new vibrant centre for the church and the community in general and in addition allows for the ongoing protection and improvement of the listed church."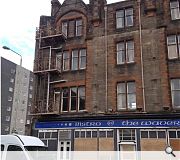 A four storey tenement block also faces demolition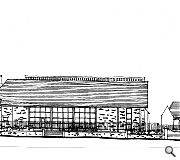 A low rise church hall could replace the present collection of buildings
Back to August 2016