Keppie go back to the drawing board for Anderston Quay masterplan
August 17 2016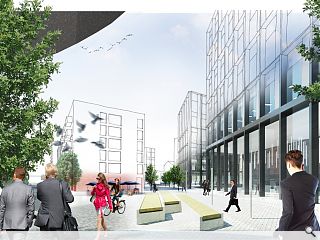 Keppie have held a pre-application consultation for planning permission in principle to erect a mixed use quarter centred on a 'boulevard' along Warroch Street, Anderston, on behalf of developer XLB.
Central Quay
will be phased in over the coming years with the first element scheduled to be a signature office block fronting the Clydeside Expressway followed by a hotel, further commerical space office and a series a waterfront residential buildings capped by a tower of around 15 storeys.
Designed to plug into the city centre using existing connections pedestrians will be drawn in via an 'arrivals space' to the north east corner of the plot at the top end of Warroch Street which will connect to a central square by way of a diagonal pedestrian route.
Opportunities for ground floor activation will be inserted throughout this avenue in order to draw pedestrians through the development to the riverfront walkway.
Basement parking will be provided throughout in addition to several private roof gardens and a resident's courtyard.
A planning application is expected within the next three weeks.
This article was updated at 18:49 to reflect the fact that as things stand an office block to the north will be the first delivered component of the masterplan, not the hotel as originally stated.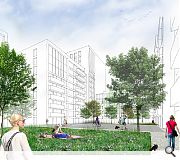 A landscaped public square will form the heart of Central Quay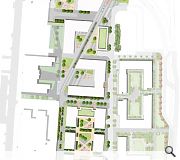 Development will be phased over a number of years
Back to August 2016