Geology-inspired hospital pavilion moves on-site
August 17 2016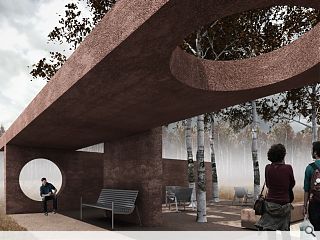 Graeme Massie Architects have moved on-site with a new hospital pavilion within the grounds of North Ayrshire Community Hospital, Irvine, to offer patients and staff a place of quiet contemplation.
Situated within a grove of birch trees the sculptural space will also serve to marry the hospital with the surrounding landscape.
In a statement Graeme Massie wrote: "It is a place where users will feel safe and secure (whether using the space as an individual or as part of a group), as well as sheltered from the environment. To achieve this the proposal takes the form of an architectural landscape, utilising wall and roof planes, seating and a grove of birch trees.
"We were keen to firmly root the project to the wider Ayrshire landscape. In particular, we have developed interest in how the earth and geology of the area could influence the material qualities for the project. We believe there is a real directness to utilising materials that are found locally to help shape the environment. The walls and roof will be formed in concrete containing locally sourced aggregates and pigments to create a structure which resonates with the local geology. The structure will be robust, and will provide a contrast with the delicacy of the grove of birch trees."
The 100sq/m seating area was commissioned at a cost of £50k by NHS Ayrshire and Arran and is scheduled for completion by September.
The pavilion will offer a place of shelter and contemplation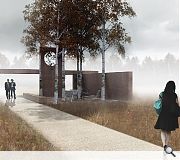 The seating area will allow better appreciation of surrounding landscapes
Back to August 2016