Montrose hospital acquired for residential-led redevelopment
August 12 2016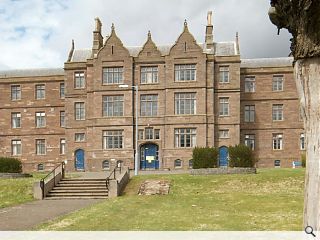 An historic hospital in Montrose has been acquired for development by Pert Bruce Construction and FM Group, clearing the way for construction of homes, shops and offices on the site as
part of a local development plan
.
Sunnyside Hospital has been subject to an outline plan prepared by Simpson & Brown Architects, who propose retention of B and C listed buildings together with clearance of a number of outbuildings, which will form the basis of a pre-planning consultation.
In a conservation plan the architects stated: "All NHS functions on the site ceased in 2012, and a number of buildings are now at risk. It is the opinion of this report that the site is eminently suited for redevelopment for a variety of uses, and that the buildings of architectural and historical significance can accommodate change to new uses.
"The landscape setting has seen considerable change over the decades but there are parts where development should not occur. Further development of the site is possible in areas of lesser significance, particularly if this helps to support and maintain the areas of greater significance."
The main building was built in the 1850's by Edinburgh architect William Lambie Moffatt and is now category B listed.
Back to August 2016