Sighthill regeneration begins to take shape
August 10 2016
Glasgow's
Sighthill regeneration
is set to move onto the latest phase of delivery with creation of a new park, roads and infrastructure by the beginning of 2017.
This seeks to establish an 'urban grid' connected to the city centre by way of a pedestrian footbridge over the M8 with the aim of fostering a pedestrian friendly environment focussed on a central civic square modelled on historic Glasgow junctions such as Glasgow, Bridgeton and Partick Cross.
Key design principles include a crescent of housing modelled on park Circus overlooking the Park set amidst 'city and local landmarks' to identify the development within its wider surroundings.
A
masterplan design brief
states: "The masterplan has evolved to enhance the natural topography of Sighthill. The original Sighthill Park is being re-profiled more in keeping with the natural drumlin that existed prior to the industrial works. The new housing situated on the hill will become a key marker on the skyline, similar to that of Park Circus in the west end of the city.
"The Civic Spine that links Sighthill to the city centre will feature the larger scale buildings along its length. Building heights of four to six storeys define the boulevard with opportunities for increased height at key corners.
"The remainder of the masterplan is relatively flat with minimal slopes within the plots."
At the heart of the scheme will be a new community campus which will open its doors by autumn 2019 with other projects set for delivery including a new St Rollox Church by Angus Design Associates.
Landscape architecture is being undertaken by LDA Design in conjunction with the council's own planners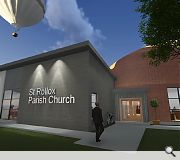 A new church will be built to serve the new community
Back to August 2016