Mammoth 550 home Dalmarnock Riverside scheme hits planning
August 8 2016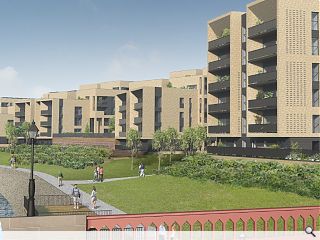 Link Group and Hypostyle Architects have tabled plans for a 550 home residential development in Glasgow's east end following the purchase of remediated riverfront land from Clyde Gateway.
Dalmarnock Riverside
has evolved from a
Sheppard Robson masterplan
and will take the form of a geometric grid of buildings and open spaces which slot into the existing road network incorporating home zone principles and a central park.
In their design statement Hypostyle noted: "Each of the primary corridors is designed to have an open boulevard character, with parking along each side of the road corridor, then private front gardens before the building frontages. This creates a road corridor that widens towards the junctions with the main roads."
The river frontage will take the form of landscaped terrace fronting an existing walkway with podium gardens for use by residents with direct pedestrian connections with steel step risers threading through to interior parks.
A variety of approaches will be taken to individual buildings with a cantilevered corner feature on the junction of Strathclyde and Dalmarnock Road backing onto lower rise homes and landscaped grounds above undercroft parking.
A buy back clause means Clyde Gateway could retake the land if construction fails to begin within three years.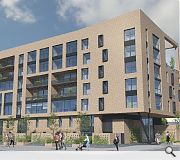 A variety of flatted and terraced accommodation will be on offer
Back to August 2016