152 Ibrox 'gateway' homes given all clear
August 3 2016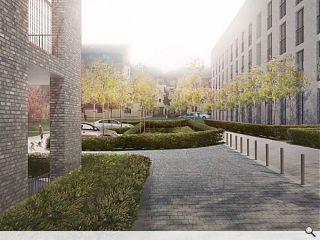 Glasgow Housing Association has been granted permission to push ahead with a development of
152 homes in Ibrox, Glasgow
, by the end of the year.
Conceived as a 'gateway' to Ibrox and an extension of tenements lining Paisley Road West the brownfield scheme takes the form of three 'pavilions in a structured and formal landscape'.
Offering a mix of social and mid-market rental accommodation close to Ibrox Stadium the scheme will range in height from three to seven storeys the project is set for completion by 2018.
In their design statement architects Elder & Cannon remarked: "The proposals reflect the rigour scale and form of the traditional tenement while the landscape offers some protection from the dual carriageway and the setback allows for the design of the landscape to easily mediate topography and levels while absorbing some casual amenity space."
The area in question is bounded by Broomloan Road, Skene Road and Paisley Road West and was once occupied by inter-war tenements.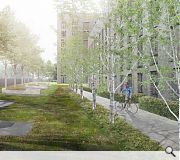 A palette of uniform brick will be deployed for the infill project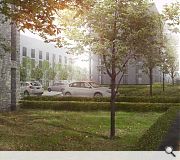 Housing demand has increased in the area following completion of the Queen Elizabeth Hospital
Back to August 2016