Govan nursery moves on-site as part of wider regeneration
|
Send to friend
July 21 2016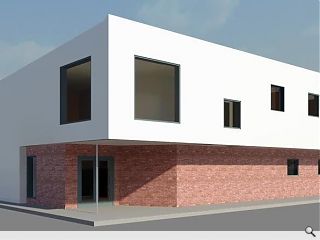 Davide Rizzo Architect has moved on-site with a private nursery on Linthouse Road, Govan, as part of a mixed use master plan for an area of brownfield land opposite the Queen Elizabeth University Hospital.
Composed in brick and white render the project marks the ongoing regeneration of a former shipbuilding and engineering works following completion of the new hospital and is scheduled for completion in October.
In a statement the architect wrote: "The new building is conceived to be playful and functional, designed around the idea of the juxtaposition of simple volumes which by sliding between each other create a sheltered space for the entrance. In a similar way the internal layout is organized on a strong separation of the service/staff room area and the playrooms.
"A further concept idea was to create the option for a continuous path from the ground floor to the upper terrace trough the playrooms. Feature elements such as roof-lights, luminaries and coloured recessed bays animate the path to offer the infant the opportunity to experience light, colours and shapes.
"Furthermore the lowered position of the windows facilitate a view for the toddlers. The palette of the materials is restricted to the use of red brick (extensively used in the rest of the development from other architects) and white render which defines the main volume of the nursery. The front elevation is more compact and defines one edge of the communal green/play area designated on the master-plan. The rear elevation is more permeable and it is opened to the rear garden, the covered play area and the roof terrace."
The facility will be operated by Kirktonholme Nursery.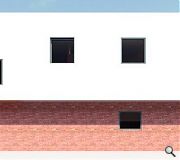 A sheltered space is provided above the entrance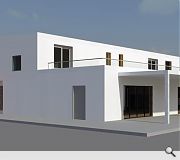 Brick is employed to tie-in with other planned developments
Back to July 2016