Trump nets permission for Menie banqueting hall & ballroom
|
Send to friend
July 20 2016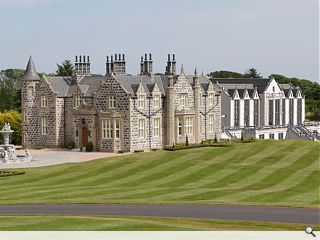 US presidential candidate Donald Trump has won planning permission from Aberdeenshire Council to extend the B-listed MacLeod House, Menie, with the
addition of a new banqueting hall and ballroom as well as six additional hotel rooms
.
Covell Matthews Architects have drawn up plans for the vituperative businessman turned politician to extend the historic property, recently transformed into a hotel, with a range of new facilities including a terrace, gym, kitchen and car park.
In their design statement the architects noted: "The proposed elevations use a materials palette sympathetic to the existing buildings on the estate. This will maintain a distinctive architectural language that is consistent throughout the site. The large proportion of windows offers guests panoramic views of the estate whilst glazed doors open onto an external terrace area that runs the full length of the extension."
The new extension will be connected to the existing hotel by way of a single storey link which also houses a feature stair to the lower ground floor.
Back to July 2016