University of Edinburgh progress £60m School of Geosciences
|
Send to friend
July 20 2016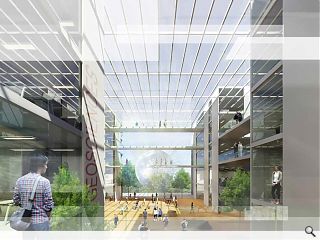 The University of Edinburgh is progressing plans to build a £60m campus for its School of Geosciences after appointing John McAslan + Partners to undertake design work following an international design competition.
Stretching to 20,000sq/m the King's Buildings campus will centre on a feature atrium to help facilitate physical and visual connections between departments as well as encourage communication between researchers by opening up previously closed teams.
Other features will include a reinterpretation of standard laboratory layouts to further enhance transparency between write-up areas, group rooms and offices as part of a general consolidation of disparate functions.
In a statement the University said: "At the heart of the building will be a central hub which connects the different parts of the building. This hub will be an inspiring and inclusive meeting space where staff and students can interact informally, where geographers meet climate scientists and ecologists meet geophysicists, where ideas, innovation, partnerships and friendships can flourish."
The project is currently still in its early stages with detailed designs to be published in due course.
Back to July 2016