Architects ruminate on EU ills in wake of leave vote
|
Send to friend
July 6 2016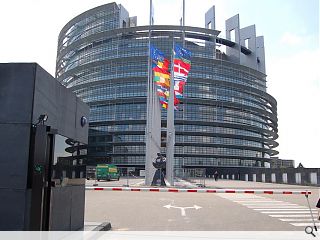 As the dust settles on the
UK's surprise exit preference toward the European Union
many are questioning just how the institution has come to be so alien to a majority of Britons.
Amongst them is Alistair Scott, director of Smith Scott Mullan Architects, who penetrated the formidable defences of the institutions Strasbourg base and lived to tell the tale. He said: "Like many architects, I am a sad and rather disgruntled "remain" voter. I don't want to play the blame game, but many commentators have correctly identified that the remoteness of our European bureaucracy from the people they are meant to serve was a potent issue in the result. I think there is a serious point here and (if you are an architectural anorak) you need no more proof than to look at the European Parliament building in Strasbourg."
Host to meetings of the European Parliament once a month, in tandem with its main Brussels base, the AS Architecture Studio designed parliament has long been criticised for being distant and anti-democratic but Scott believes its problems may have taken root in the architecture itself.
Scott observed: "I visited in 2014 while on one of our practice study trips (jolly's?) to see eco-housing in Freiburg. We went up to Strasbourg to see their splendid collection of European buildings, with high expectations of democratic transparency, openness and all the other design aspirations that underpin our own Scottish Parliament. However, these were dispelled almost as we left the tram stop. In reality, there was utterly no attempt to engage the good citizens of Europe with their democratic overlords, not even a café!
"So I have dug out a (slightly satirical) sketch which I made on the visit, which shows the entrance sequence for the Parliament Building. What amused me was that it is exactly the same architectural format as Edinburgh Castle. It is separated from the city fabric, it has a killing ground (a car park) in front of it, a moat (yes) with a bridge over it and you enter the main courtyard through a tunnel which probably includes future proofing for a portcullis.
"I suppose my mild amusement has taken on a darker tone and if we are having a new relationship with our European partners, then perhaps it is time to have a new European Parliament building as well – designed by a Scottish architect of course.
"Anyone fancy yet another petition?"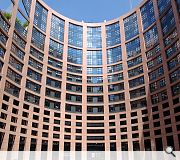 Only those who have pre-booked tours months in advance are allowed past formidable security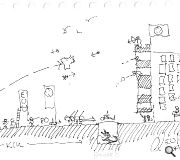 The great unwashed aren't normally permitted admittance
Back to July 2016