1920's banking hall reborn as contemporary 'brewpub'
|
Send to friend
July 5 2016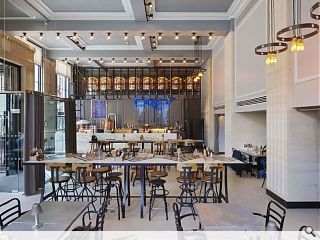 A B-listed Glasgow banking hall dating from the 1920's has been reborn as a contemporary 'brewpub' following interior refurbishment works carried out by Jestico + Whiles on behalf of Glendola Leisure.
Shilling Bar & Brewery on the corner of West George and West Nile Street has seen later additions such as a mezzanine level stripped back from the former Commercial Bank of Scotland to reveal 20ft high coffered ceilings, fluted marble columns and even a wood burning oven.
New additions include a unicorn mural created by local artist Gaz Mackay and an inset star embossed within the concrete floor as well as a long bar and copper brewing vessels. Graphics and visual identity, also drawn up by Jestico + Whiles, have been influenced by the traditional 'guilloche' patterns printed on banknotes.
James Dilley, head of hospitality and interior design at Jestico + Whiles said: "We have worked carefully to reveal the original interiors and have overlaid contemporary features that resonate with the building's rich history.''
A foot-thick steel vault in the basement meanwhile has been opened up to provide access to bathrooms with a picture window offering views to the brew room, giving patrons a chance to observe the brewing process at first hand.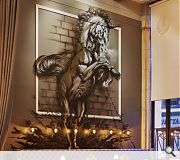 A chained unicorn greets guests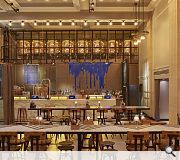 The full volume of the hall has been revealed for the first time in decades
Back to July 2016