Hopes and fears expressed ahead of milestone EU referendum
|
Send to friend
June 21 2016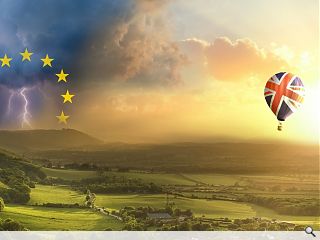 As the EU referendum campaign draws toward its inevitable climax those with most at stake in the outcome; an embattled construction sector amongst them as it grappling with a skills shortage, dependence on inward investment and reliance on cheap imported materials, are looking to the future with a combination of hope and fear.
Whilst it's fair to say that a clear majority of those spoken to by Urban Realm expressed a desire to remain a part of the European club enthusiasm is markedly muted with many viewing the vote through the prism of Scottish independence, specifically whether an in or out vote may or may not make such an outcome more or less likely.
It's noteable that far from the polarising views of Indyref in which there were clear dividing lines between 'Yes' and 'No' camps this time round things are far less clear cut - even though most voices in the Yes campaign are backing so-called Bremain, some are still on the fence or flirting with exit, Malcolm Fraser amongst them.
Fraser said: "The EU is a racket, focussed on the interests of the corporate oligarchy; however the government of Britain is that and more, and there are elements of consumer, environmental and legal protection in the EU that a brexited Britain would shred. What is someone who cares, first, for the integrity of democracy to do? "
Even avowed backers of remain couch their support with very real reservations around a continuation of the status quo as Collective Architecture's Chris Stewart attests: "Our profession is sliding downwards and although I will vote to remain which I hope we do, if we do not then may that be the catalyst for a bigger change."
Similarly Willie Miller of WMUD will enter the voting booth holding his nose to vote in as whilst he acknowledges that the EU 'needs reform' Miller believes that the UK government is not the body best placed to achieve that. Instead Miller again makes the case for an empowered Scottish parliament to engage directly with Brussels on policy.
Those advocating a leave vote are concerned that they may be tarred with the racism brush as leading lights in the withdrawal camp stoke immigration fears, as architect Alan Dunlop articulated: "I'm truly disappointed that both the leave and remain groups have again led with 'project fear' and that the principle issue for those voting to leave is immigration and I do not wish to be associated at all with that."
Instead Dunlop extends arguments made during Indyref, particularly in relation to national sovereignty and democracy, decrying the EU as a 'massive bureaucracy' that is fundamentally 'anti-democratic'.
Amidst the pervading cynicism there are some who still hold fast to European ideals, notably Paul Stallan who told Urban Realm: "Europe is our critical friend. Whether it is the movement of people, resources or commodities we have responsibility to participate rather than turn our back. If we are confident in our own national affairs and priorities we have nothing to fear from being a member state and much to contribute."
Ultimately the fight for Scottish independence was decided by concerns over the economy and a drift toward the status quo and it is likely that such factors will again play a decisive role this time round, but with current polling effectively deadlocked few will sleep easy this Thursday.
Back to June 2016