Public consultation held for Johnstone masterplan
|
Send to friend
June 17 2016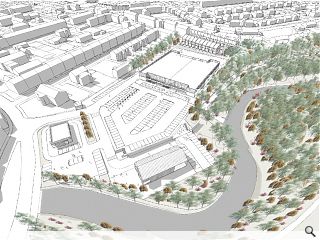 A public consultation has been held in the Renfrewshire town of Johnstone outlining proposals for a supermarket, pub, drive through restaurant, 20 homes, a car park and community woodland on the site of the
A-listed Paton's Mill
, of which nothing now remains following a devastating fire in 2009.
@Sipp Pension Trustees have commissioned Stallan Brand who has produced a basic site-wide land use plan as part of their strategic master planning role for the site, illustrating the scale of planned works.
This will take in land bordering the Black Cart River, opening up a stretch of riverfront to cyclists and pedestrians along a heritage path which could include information points detailing the history of the former mill.
A formal planning application with detailed designs will be submitted pending conclusion of a public consultation.
Much of the land will be given over to a surface car park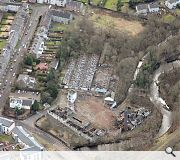 Remaining mill structures have been demolished following a fire
Back to June 2016