The Edinburgh Clinic to cover new ground
|
Send to friend
June 16 2016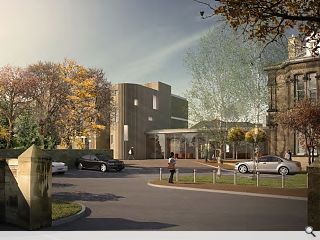 LSI Architects have lodged plans to
extend The Edinburgh Clinic
, a private hospital on the city's Colinton Road, to provide new operating theatres, bedrooms, chemist, staff facilities and a restaurant.
Connected to the existing clinic, housed within a B-listed lodge, by way of a covered pedestrian link the expansion will occupy open ground and extrapolate the historic pattern of large detached villas lining the road.
This will take the form of a 'villa' faced with a grid of stoned faced panels with corner towers finished in terracotta housing stairs and lifts.
In their design statement the architects observed: "The proposed new villa would be connected to the existing no 40 by a single storey link. As it is single storey it would be insignificant when viewed from Colinton Road and the overall appearance would be of two distinct villas. From the flats in Polwarth terrace to the north, views through between the buildings to the playing fields to the south would be retained. This link would have a green sedum roof so from above the appearance would be of green garden between the two villas.
"At the rear the extension is connected to the Lodge/Steading behind with a single storey glazed corridor."
The main entrance will be maintained at the current lodge, which will also be extended to the west.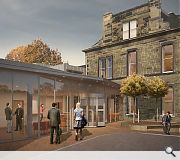 Glazing will ensure the external stone wall of the lodge will remain visible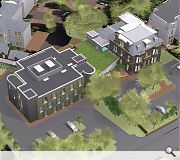 The new build will mimic the massing of a standalone villa when viewed from Colinton Road
Back to June 2016