RGU students challenge sprawl development with new exhibition
|
Send to friend
June 9 2016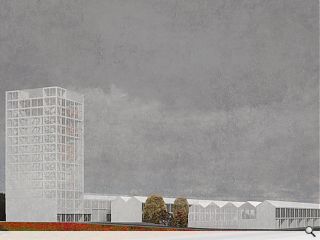 Stage 6 students at the Scott Sutherland School of Architecture are to set out their ideas for development around Aberdeen's western Peripheral Route, a city bypass which it is feared could exacerbate sprawl.
To counter this a range of development ideas have been put forward for land surrounding the new road, ranging from a vertical distillery and theatre to a research institute in an effort to showcase alternatives to cul-de-sac housing and retail parks which typically spring up alongside new roads.
Course leader David Vila Domini said: "The project is a way of exploring what might be possible for this site between Milltimber and the bypass by taking into account a holistic approach to the city, as opposed to the usual piecemeal developments which spring up around bypass routes.
"Each of the students has proposed a development led by functions which are suited to a site on the periphery of a city. The benefit of having a more coherent approach to these sorts of locations is that often they connect to the city in a different, more permeable way, rather than just building more housing or retail parks which simply serves to push more and more cars on to the main arterial roads."
Designs will be exhibited as part of the Scott Sutherland School's end of year show staged between 18 and 25 June.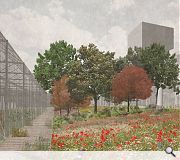 Janis Vilcins has proposed creation of a vertical distillery consisting of a hotel, distillery, greenhouses and housing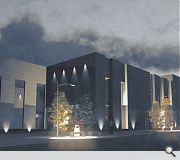 Valentin Dolhan has set out designs for a research institute to offer a range of spaces for visitors and scientists
Back to June 2016