Keppie retrenchment to see closure of Aberdeen, Perth & Manchester offices
|
Send to friend
June 6 2016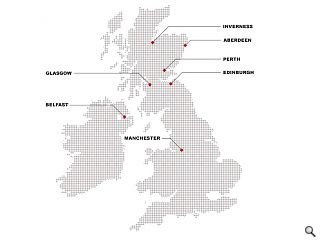 In a surprise move Keppie Design are to close studios in Aberdeen, Perth & Manchester and consult on the future of 25 staff after posting a £528k pre-tax loss to 31 July 2015.
Blaming the recent dip in oil prices for the delay to a number of projects the practice is to withdraw from what had been a key target market in Manchester, whilst focussing work north of the border on its Glasgow, Edinburgh and Inverness studios – all of which will remain unaffected. Keppie's Belfast office closed last year.
A spokesperson for Keppie Design commented: "After careful consideration, we have chosen to restructure the business and are currently in consultation with 25 employees in Aberdeen, Manchester and Perth on the proposed closure of these offices. This period of consultation started on Wednesday 1 June will last until Wednesday 15 June.


"It is important to highlight that Glasgow, Edinburgh and Inverness offices and staff will not be affected by this. It is also important to emphasise that this decision has been made to strengthen the business and allow us to move forward from an even more solid and more secure base. Keppie Design has a great heritage, a very talented team who are involved in lots of exciting projects, and have a bright future ahead. The proposal to close these three offices would dramatically reduce our overheads, allowing us to protect the business for the future and move forward from a position of increased stability."
Keppie Design currently employs 53 architects spread across seven UK offices and recently
forged an alliance with Stride Treglown and Todd Architects
.
Known as 431 Architecture this was a bid to tender for large-scale UK projects by pooling resources.
Back to June 2016