'Windforest' plan wins out in Port Dundas energy competition
May 31 2016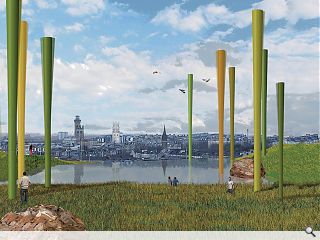 An outlandish scheme to install a Windforest on top of Dundashill, Glasgow, is to be brought forward after the renewable energy project was chosen for adoption by the Land Art Generator Initiative (LAGI, an international organisation dedicated to the conception of sculptural forms of renewable energy.
Situated on Dundashill, an area prioritised for regeneration by Glasgow City Council, the submission features a cluster of 13m tall wind turbines capable of generating electricity through oscillation and was one of three shortlisted schemes to be conceived in collaboration between artists, architects, engineers, scientists, landscape architects and urban planners.
Drawn up by ZM Architecture, Dalziel+Scullion and Qmulus Energy together with New York based Yeadon Space Agency the winning scheme will now be subject to detailed design work as well as preparation of a business plan to make the project a reality.
Runners up in the project included Dundas Dandelion, a tubular construction that aims to harness the power of the wind through vibrations rather than rotation. Designed by Stallan Brand, Pidgin Perfect and Glasgow Science Festival/University of Glasgow together with Matthew Rosenberg of Los Angeles based M-Rad it aims to put beauty back into energy generation.
Another scheme to narrowly miss out was Watergaw, prepared by ERZ, Alec Finlay and partners who collaborated with Riccardo Mariano, which features an integrated array of devices including wind turbines, hydro electric turbines and a heat pump.
Councillor George Redmond, executive member for jobs, business and investment at GCC, said: "The regeneration of the canal in Glasgow offers the opportunity to look at achieving our aims for the area in new ways, and the fantastic designs on show at this exhibition will illustrate what could be done by local talent as we continue the renaissance of the canal banks. Recent development of the canal in this part of the city has been defined by innovative approaches to housing and cultural spaces, and LAGI Glasgow is very much in the spirit of this."
An exhibition of the winning designs will take place at the Lighthouse between 9 June and 29 July.
Every time Watergaw generates a certain amount of energy a rainbow water feature is triggered for a few minutes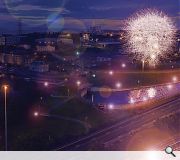 This tubular dandelion would have converted its swaying motion to electric charge
Back to May 2016