UWS Lanarkshire campus wins go ahead
May 26 2016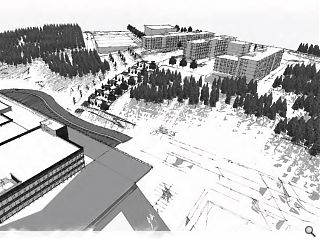 South Lanarkshire Council has
lent its approval to an out of town campus for the University of the West of Scotland
, to be sited within Hamilton International Technology Park.
UWS Lanarkshire will see three blocks of student housing built offering 500 spaces, together with conversion of three existing buildings for academic use and sport facilities, connecting to the existing UWS Eco Campus by a landscaped woodland walkway and 1,500 space car park.
Overseen by Mosaic Architecture + Design the plans run counter to the council's own local development plan but were approved regardless on the basis that there would be no impact on green belt land.
Stating their design principles Mosaic stated that they would harness topography to create a series of : "Our aim is to create a phased master plan that builds a strong link between the residential campus and academic buildings.
"The residential blocks are stepped along the site's contours. The layout of the buildings will create a series of interlinked courtyards which will each have their own distinct character."
Final approval for the relocation must wait until the university's governing body convene at the end of June.
Back to May 2016