Former Balshagray public school to be repurposed as flats
|
Send to friend
May 23 2016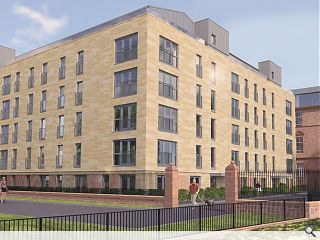 EMA Architects are to refurbish and extend the C-listed Balshagray Public School in Broomhill, Glasgow, on behalf of Kelvin properties to form 73 homes.
Situated on a prominent site to the north of the Clydeside Expressway the scheme will entail demolition of a swimming pool and janitor's cottage to allow formation of a six storey sandstone clad block of 28 flats.
The main school itself will be retained together with railings and boundary walls although its triple-pitched slate roof will be removed to allow insertion of a zinc penthouse extension. Here the 33 flats available will incorporate mezzanine spaces to take advantage of 5m floor to ceiling heights with lift access built in the central hall.
Commenting on their design concept EMA said: "The design proposes a new building on the western edge which will reinforce the streetscape along Broomhill Avenue and create a strong peripheral urban block. The new building will also respect the setting of the listed building.
"Terraces for penthouse flats would be formed over the building's east and west outshots. The new storey would be a contemporary extension with full height glazing and would be stepped back from the existing building line. The existing stairwells would be extended to connect to a new access deck to serve the additional storey. The new roof would incorporate glazing over the central atrium which would be retained."
A Hub block within the grounds will also be retained to form an additional two homes.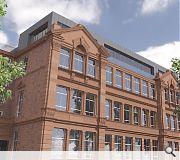 A penthouse level will be added to the school to 'improve the appearance and marketability' of the school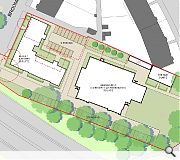 A swimming pool and janitor's cottage will make way for new build accommodation
Back to May 2016