Simpson & Brown table expansion plans for New Town chapel
|
Send to friend
May 19 2016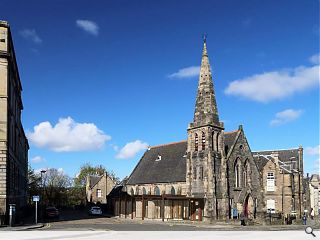 Simpson & Brown Architects have filed plans to augment an existing
chapel on Edinburgh's Rodney Street
with new extensions on behalf of Bellevue Chapel Evangelical Church.
The gothic church sits within the New Town conservation area, necessitating a low impact approach for the new build elements to protect existing views.
Working with an architectural language of stone buttresses the extension will feature areas of narrow glazing around a relocated entrance on a vacant plot to the side of the chapel.
In their design statement the architects observed: "To create interest and some visual links, glazing has been set into the wall at the column locations which are expressed externally after the manner of the roof beams, almost as a negative of the existing buttresses. The glazing extent increases in each successive bay; the rhythm created emphasising the progression towards the main entrance.
"The new entrance is designed to be visible and welcoming. It is barrier free, leading to a multi-use space where users of the building can congregate. The building envelope, which at this point is fully glazed, is protected by a curving canopy and signage and events notices and screens are incorporated into the layout."
An additional roof pitch will also be inserted between two existing roofs to the west to carve out more first floor space.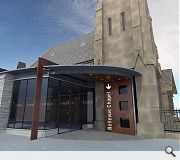 The new extension takes its cue from buttresses present in the current gothic chapel
Back to May 2016