Mothballed St Enoch Square hotel plan dusted off
|
Send to friend
May 18 2016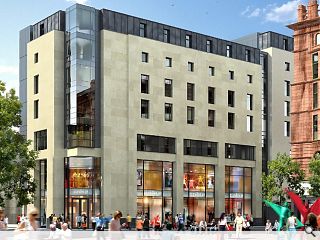 Farrell & Clark Architects are bringing forward plans to build a 209 bedroom Premier Inn hotel at St Enoch Square Glasgow with the re-submission of a demolition application and some minor design revisions to a
previously approved 2008 proposal
.
Designed to enclose the south side of the mixed use scheme will include retail and commercial uses across ground and first floor levels together with a 'robust base' and 'differentiation of storeys' together with a modulated glazed corner intended to 'make a proper connection' to the square.
In their design statement the architects said: "The hotel rooms being set back from each boundary sufficiently to allow the necessary fenestration to the bedrooms. At the sixth floor level the external wall to the Howard Street frontage is setback approximately one metre to allow the proper relationship to the existing buildings in Howard Street as St Enoch Square is approached.
"A seventh floor to the hotel is also proposed, but this is limited to the north western corner of the site."
Faced in limestone the L-shaped scheme will see bedroom windows set in deep reveals with a hotel atrium rising from second floor level through to the roof.
Back to May 2016