Anderson Bell + Christie draw up plans for Corstorphine Primary nursery
|
Send to friend
May 10 2016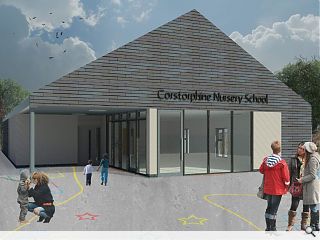 Anderson Bell + Christie have tabled plans to
build a stand-alone nursery
within the grounds of the recently completed
Corstorphine Primary School
on the site of existing substandard prefabricated accommodation.
Faced with grey and blue fibre cement cladding boards alternating between horizontal and vertical orientation the scheme will sit under a dual pitch roof threaded with sun pipes in a response to its residential context.
Outlining their design intent the practice said: "The design is to be kept neutral as possible to blend in with the context. Tones of blue are to run through the facades. Rather than use strong colours the intent is to provide a more refined pallet of materials that focuses more on texture and pattern.
"This will make the building more tactile and inviting. The use of the profiled panels will allow the building to make subtle shifts in appearance across the course of the day."
Back to May 2016